Thank You! : We are the Number 1 UK Dyslexia blog according to Feedspot
Today we were thrilled to hear that The Studying With Dyslexia Blog was awarded the '
Top Ten UK Dyslexia Blog'
by Feedspot.
Feedspot is an organisation that collates blog sites and makes it easier for you the reader to be able to find other blogs that will help you too.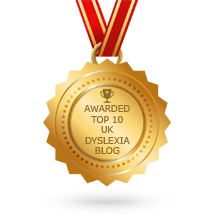 I cannot fully take the credit for this though as I cannot continue to write blog articles and share that inspiration and information to supporters of dyslexic learners, without the support of key organisations who sponsor this blog as well as all your comments and feedback.
The Studying With Dyslexia Blog is for you and I am committed to continue to provide articles that will help you as you support a dyslexic learner.
Thank you!